PM's 'contract' offers clear opportunities for engagement and growth
Prime Minister Tony Abbott is the first in the top office to have signed a 'contract' with the Australian community.
The six-point contract contains the commitments he took to the electorate on which he is asking people to 'hold' his government 'to account'.
The points cover a stronger and diversified economy; elimination of the carbon tax; the end to waste and debt; the building of modern roads and improved services; securing the nation's borders; and the creation of 2 million new jobs within a decade.
This latter commitment is difficult to evaluate before the next federal election because it is only three years away. However, the Prime Minister will have to demonstrate an improvement in the current situation during his term of office if he is not to breach the contract.
Although the contract can be regarded as 'symbolic', it has a greater underlying element. It highlights the desire for greater stability in government planning and decision-making over the previous government. The business sector should now start planning on this basis, along with their government engagement process.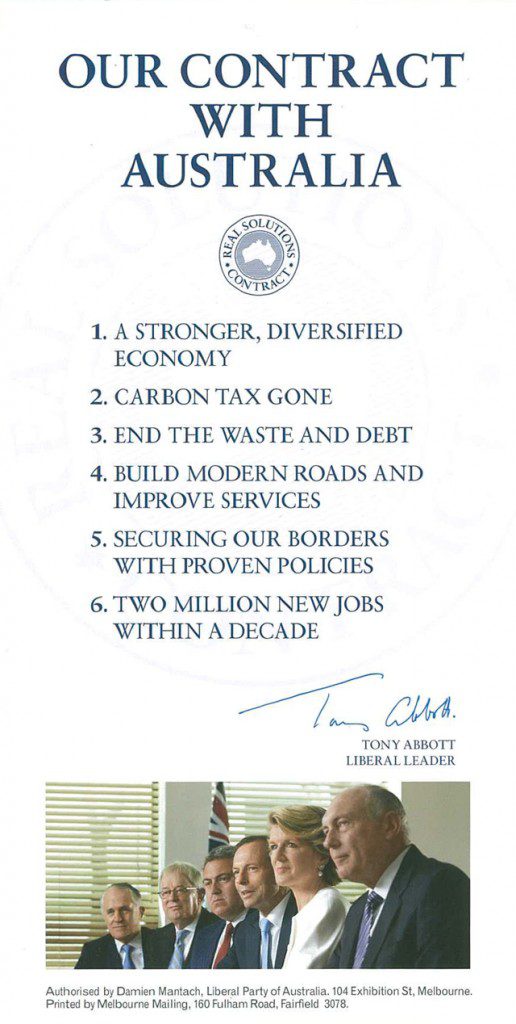 The contract also emphasis that the government is not going to be run by media-driven agendas. Consultative decision-making is what it is seeking; it is now open to be tested in practice.
The business and community sectors should be engaging with government with full knowledge and understanding of the Coalition's policies and what they are seeking to achieve and what the new Ministers have been saying over the last year when they were in Opposition.
Three-years is only a very short-phase in the business cycle. But it is one with which the CEOs of today are familiar business plans. Living up to the 'contract' requires input from more than just the government. That is why the Prime Minster says that Australia is once more open for business. He needs a partnership with business to work or "the contract" will be 'torn-up' in by the electorate in 2016.
RMKA has built a deep understanding of government policy formulation and processes and combines that with knowledge of how to effectively engage with government to address issues and implement initiatives of importance to business.
https://www.rmka.com.au/wp-content/uploads/2013/09/contract.jpg
360
640
Robert Masters
https://www.rmka.com.au/wp-content/uploads/2015/08/logo-300x132.png
Robert Masters
2013-09-19 15:35:44
2015-08-18 17:17:02
PM's 'contract' offers clear opportunities for engagement and growth